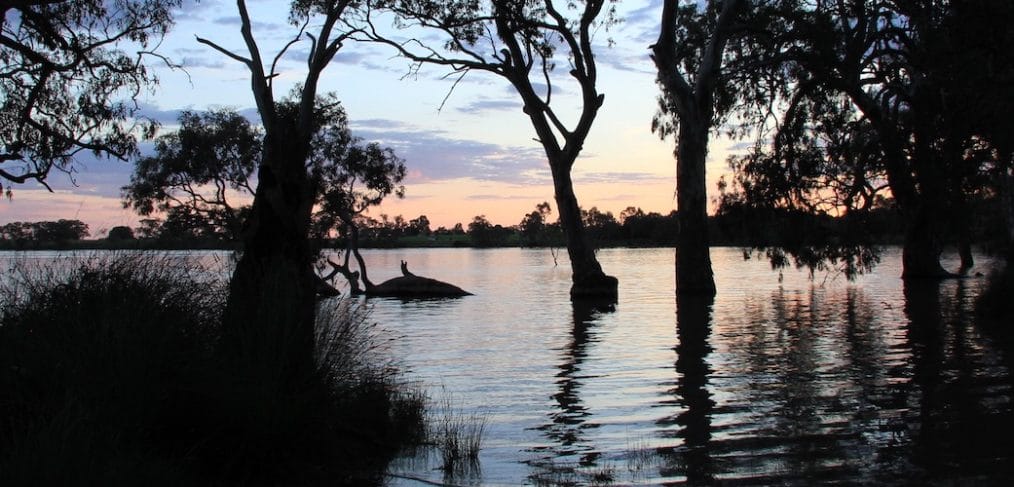 Departing Fitzroy River Reserve at Tyrendarra, Victoria, we leave the coast and head to Cockatoo Lake in South Australia. We head North West through Heywood towards Casterton. It's a scenic drive through very lush and green dairy, cattle and sheep farming country.
Fittingly we pass through a town called Merino which on its welcoming sign says "Welcome to Merino. Please slow down. We don't have the people to spare". We didn't stop and take a photo but found one here. It's a small town with a great name. Unfortunately the population is dwindling which is sad for these small towns, and was only 253 recorded in the 2016 Census, down from 364 in the 2011 Census.
We stop at Casterton to stock up at the local FoodWorks. What do we find in the middle of sheep grazing country? That this town is known as the birthplace of the Kelpie dog. If you're interested about where the Kelpie breed came from, have a read of Casterton's web site.
Over the border into South Australia
Heading North West we pass over the border into South Australia into the famous Coonawarra wine region. This takes us through towns we've visited on previous wine trips, like Penola and Coonawarra. We resist the temptation to stop at some of our favourite wineries like Zema Estate and Di Giorgio Wines in Coonawarra. After passing Naracoorte, just past Cadgee we turn left down Morambro Lane.
Cockatoo Lake is beautiful!
We make our way to Cockatoo Lake, a small lake south of Padthaway. Turning left off Grubbed Road, heading towards the lake, turn left not right or else you could end up bogged like someone else did.
The campground is located right next to the lake. There is a toilet in an olive green round concrete structure that looks like a water tank. Impressively it houses a proper flush toilet with wash basin complete with toilet paper and is one of the cleanest toilets we've come across at a campground.
There was a small gathering of about four RV's setup on the grassed lawn area. This is directly in front of log barriers stopping people camping too close to the water. We talked to some locals who were there for the day, sitting on the lawns watching their children swim. It was about 3pm and they said it's likely more campers will arrive as they normally do after 4pm. They said there are smaller, more secluded camping areas on the other side of the lake. With our interest piqued we decided to drive over there and take a look.
It's always better on the other side…
Access to the other side is made by heading back and turning right onto Grubbed Road, and then right again onto Deepwater Road. A short distance up the road on the right, there is an entrance onto a track following the lake around. The road is mainly made of clay and may become slippery when wet. There were many deep bog holes providing evidence of people who had got stuck. With rain forecast in the next few days we were conscious to keep an eye on the conditions. There were quite a few camping options. We camped both near the lake and next to a shallower area with lots of large, tall gum trees which looked good for yabbying.
It was quite warm and humid. Despite it being mid week, in the late afternoon a few locals arrived at the main campground with their ski boats and jet skis. From 5:30pm until the sun set, they skied up and down the lake. We were the only campers on the other side and glad we came here. This didn't eliminate the noise, but we're fairly certain it would have been much noisier at the main campground. On Friday night one group partied till around midnight. We think they were silenced by their neighbouring campers as their singing ended abruptly.
Catch of the day
Keen to catch some yabbies, Vic placed a couple of shrimp nets in the area next to us, using chop bones as bait from our BBQ dinner. The water is not very deep, with only a very gradual slope and quite muddy. There were a few dinghies zooming up and down the lake. They were setting yabby nets, mainly opera type ones and checking them regularly. We could see each time they checked their nets they were pulling in a nice catch.
Opera nets are legal to use in South Australia, but not in Victoria or some other states like Western Australia. We had some in our garage from when we lived in Adelaide, but sold them at our garage sale just before we left. They would have come in handy, but in Victoria you can get a fine for just having them in your possession near the water! After a few hours we had nine yabbies between the two nets and Vic was keen to cook them up after letting them purge in a bucket of water. A picture tells a thousand words and you can see Vic enjoying them in the photo! The next day we caught some more, so cooked and cleaned them to bring home for Leonie's father.
A storm approaches
We could see a storm approaching and received a severe thunderstorm warning on our phone weather app. It was one of those very humid days where you could feel the electricity in the air. The wind picked up and birds were spooked. There was thunder, lightning and rain for an hour or so, but nothing too severe and certainly not enough rain to affect the road condition to get out. After an hour, the sun emerged and allowed the car and camper's batteries to be charged using our portable solar panels.
Solar Panels
Our camper is fitted with two 100AH Gel Batteries which are charged from the car when driving and also from its 105W Solar Panel. We also have a portable trifold 180W mono crystalline solar panel from Blue Apple Solar. This has a 10m lead so that we can place it where required for maximum efficiency. As any off grid camper knows, the only issue is continually moving it to follow the sun. But as Leonie says "The exercise won't kill you Vic!".
Regulated or unregulated?
The portable solar panels are fitted with both regulated and unregulated Anderson output plugs. The regulated plug supplies 14.1V for charging car batteries, and the unregulated for input into the Vista's solar charging unit for maximum charging efficiency. We have successfully used both at the same time.
The ARB fridge was showing a red error light, indicating a low voltage condition. This could be indicating that the deep cycle battery in the car is not holding enough charge. We connected the regulated output to the battery terminals and it seemed to charge quite well, despite overcast conditions. We'll need to get the battery tested when back in Adelaide.
We spent a total of three nights at the lake and loved it. Thank you Amanda and Adrian for recommending it! We left Saturday morning, the rain holding off apart from slight drizzle and drove on to Adelaide. We will probably stay around Adelaide until just after Christmas and catch up with family and friends. That will allow us a good amount of time to reflect on learnings from the past few weeks and set the car and camper up better for our new lifestyle.