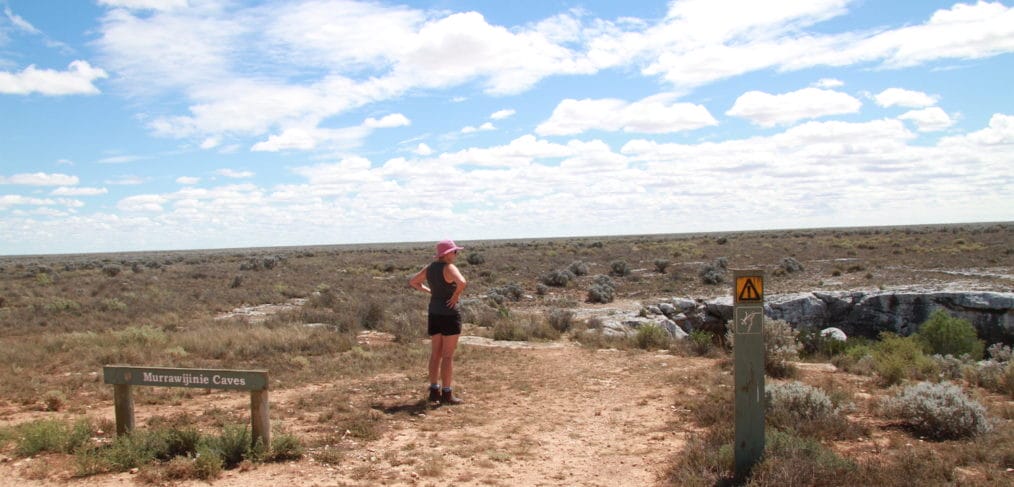 From Trains to Caves
Vic's idea of visiting Cook was excellent (credit paid where credit's due) and we highly recommend it if you're travelling along the Eyre Highway near the Nullarbor Roadhouse. We decided to head back to the roadhouse as we wanted to visit the Murrawijinie Caves nearby.
We've crossed the Nullarbor about five times before, making trips to WA from Adelaide and Melbourne to visit Leonie's sisters in the South West. So we've known and read about caves along the Nullarbor but never visited. So this was our chance. This time we're not racing across the Nullarbor overnight from Adelaide to Perth, we're doing it slow and seeing what we want to.
It's best to ask about the condition of the road at the Nullarbor Roadhouse first. There's a signposted dirt track leading to the caves accessible just west of the roadhouse. Head about 10 km in on a very bumpy dirt road, best accessed with a 4WD. A 2WD would be ok in the dry only, though you'd need to be careful of some of the larger rocks. The going can be slow, and it took about 30 minutes to get there, stopping for more photos of course!
We stopped at an old windmill (minus the actual blades) where a bird had built their nest. Then at the site of an old rusted out Valiant car to add to our Carcasse collection.
Bloody Hands
Murrawijinie is aboriginal for "bloody hands". According to the information displays, there are ochre hand stencils painted on walls in two of the three caves. We didn't venture into them so didn't get to witness these, but in hindsight wished we had. This is why you need to do your research beforehand. Further reading after leaving the site reveals that the third cave contains the hand stencils just inside the caves entrance, and to bring a torch.
We were warned of sightings of snakes in the caves at the roadhouse, but as we were the only ones there in the sweltering 40C heat didn't think it a good idea. Tempting as it was to venture into the caves where the temperature was probably 10 degrees cooler, we hadn't planned on extra cave activity.
All three caves are within close proximity to each other. The most scenic is the third, where you can see right in and up through holes in the limestone.
Caving is dangerous!
As a side note, there is a large cave system north of Cocklebiddy but it is closed to public entry. It was the site of the world's longest cave diving expedition in 1983 where a world record of 6.25 kms was set. Not far away is the Pannikin cave in which an expedition in 1988 nearly turned to tragedy. Cavers became trapped as a freak storm arrived with wind gusts of around 100 km/h. Heavy rain and hail caused a deluge of water to enter the cave and create a landslide, trapping 13 cavers under the rocks.
This event inspired an Aussie movie in 2011 called Sanctum written by Andrew Wight and John Garvin, with executive/producer James Cameron (writer/director of Avatar and Titanic). Andrew was an Australian screenwriter and producer who was on that expedition in 1988. We have yet to watch it, but it's on our must see movie list. Tragically, Andrew died on 4 February 2012. He was killed in a helicopter crash at Jaspers Brush near the town of Berry in New South Wales, Australia. The crash also claimed the life of American filmmaker Mike deGruy.
We headed back continuing along the same track which takes you a short distance further north then does a U turn and heads to the roadhouse. It completes a loop and a chance to see different scenery. Back at the roadhouse, we enjoyed an eager shower for only $1 for about 4 minutes. It felt great after a few days in 40C heat.
The freezer is struggling in this heat
Our ARB 47L Fridge/Freezer which we're using as a freezer was at -11C and was struggling to stay at its -14C setting. So we bought some bottled waters to freeze as it was not completely full and having something occupy empty space would help to keep it cool. Plus, you can never have enough cold water! It's probably not the fridge as it was on the second car battery the last few days and we suspect that the battery is not holding charge, despite installed the fancy Alternator-S Fuse in Adelaide. We've been chasing this issue of a red error light coming up on the ARB for a while when it's been on batteries for several days. This also happened at Cockatoo Lake. We suspect it's the battery and will keep monitoring it.
The spectacular Great Australian Bight never ceases to amaze
Leaving the roadhouse, we continued our journey west along the Eyre Highway. We were on the lookout for an overnight stop hopefully with a view over the Great Australian Bight from the top of the cliffs.
Every time we cross the bight, Vic insists on stopping and taking photos of the spectacular cliffs. Like he hasn't got enough already from previous trips! A decade ago you could drive down any of the roads to the many viewing points where the Eyre Highway nears the cliffs, park your vehicle and take great photos. All the great viewing spots have now been blocked off from access. Graders have made large mounds at the entrances and dug deep scrapings in the roads making it difficult to access even if you got past the entry. The reason is for people's safety as the cliff edges are very unstable and often hollow under where you stand so they have been blocked off. The other reason is to preserve the vegetation which also helps to keep them stable.
However, if you know where to go, there are a few spots that you can access from side roads, park in a safe spot and walk to. We've added a map of one viewing point which has a great view back east along the cliffs. It's at these GPS co-ordinates. But be warned, go there at your own risk!
Latitude: 31° 35' 4.638" S
Longitude: 130° 22' 30.882" E
Camping on the Bunda Cliffs
We continued our journey west along the Eyre Highway, on the lookout for an overnight stop. We pulled into some roadside stops marked on WikiCamps but it was hot around 35C and thick with flies. Driving around looking for a campsite, our Redarc Electric Brake Controller flashed a yellow error condition with two reds indicating an error with the wiring. After turning the engine off, unplugging connections, spraying in some electronic cleaner it was fixed. Possibly some dust had got in.
Finally we pulled into a free site called In Between the Dunes (search in WikiCamps), 123 kms East of Border Village. We found a nice spot nestled amongst the dunes, not far away from the cliff of the bight, 61m/200ft above the sea (we know that because photos contain a GPS reading with the elevation!). It had great views of the Bunda cliffs from the escarpment looking east and west, and the sunset was spectacular. The wind picked up during the night so we were glad to be tucked away in this spot. There is Telstra mobile coverage and our mobile phones automatically turned back one hour. There were only two other vehicles parked when we arrived, then another pulled in later. It's a big site with many places to park, even for large vans.
It was a warm and humid night, and we were glad to awaken to a fresh breeze in the morning, albeit a very cloudy day.
Don't bring Honey into WA!
The next stop was at the quarantine station at Border Village, where you cross borders from South Australia into Western Australia. We surrendered cores of apples we'd been eating as well as some other fruit. We always joke about crossing quarantine stations that we won't get scurvy for a while as we finish gorging down all our excess fruit. We didn't have any honey as we knew you cannot bring it across. We noticed a big box full of all sorts of honey surrendered by people not knowing that. We wished we'd taken a photo. This would be a good place for Humphrey Bear to live!
From Border Village we passed through Eucla with our destination set for Newman Rocks, west of Balladonia. If you have time, visit the old Telegraph Station and Jetty not far from Eucla. We've been there before, and although it's worth visiting again someday we kept driving.