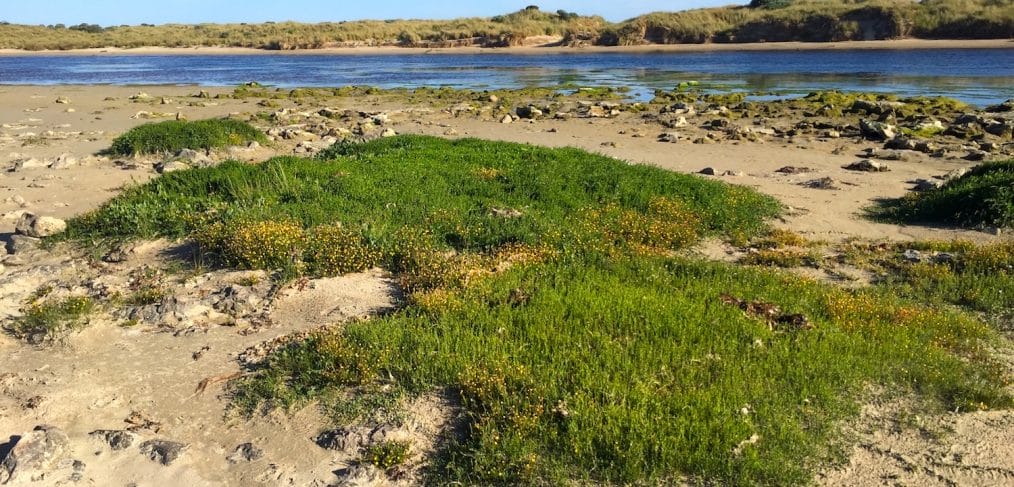 Leaving a week of glamping in Berwick behind us, we drove down the Monash and said goodbye to Melbourne probably for quite some time. Our plans at this stage are to head to Western Australia early next year, visiting friends and family in Adelaide along the way. However, todays destination is the Fitzroy River Coastal Reserve at Tyrendarra.
Heading through Geelong, we drove along the Princes Highway and encountered several roadworks between Winchelsea and Colac. The going was slow, with many reduced speed limits to 40Km/Hour and short sections of automatic stop/go lights. We discovered there's a $363 million project underway to upgrade the Princes Highway, with completion in 2019, so try to avoid that stretch of road for a while.
From Warrnambool, we followed the coast road via Port Fairy. Just past Tyrendarra East, we head south down Thompsons Road toward the Fitzroy River Outlet into the sea (Bass Strait).
Easy access dirt road to the river outlet
Thompsons Road is an easy access dirt road all the way down to the river outlet. It has a large area suitable for about ten or so sites about 250m before you arrive at a smaller area suitable for about three sites near the water. The larger area where we stayed had longish green lush grass about 20cm long in most places. This could potentially be a haven for snakes but we didn't see any.
We met one of the locals camped near us who comes here often who was quite annoyed at the local group who manage this campground.  He said they collect quite a bit of money in the busy holiday periods, but don't provide bins nor remove any rubbish that, inexcusable as it is, people have left behind due to a lack of bins. There was a large amount of rubbish in the area near the river that was an eyesore that had been there for two months. Facilities include a toilet block but we didn't use it so can't comment on its condition.
There seem to be very few free camps located in this part of Victoria. We wanted to stay on the Glenelg River but all the camps need to be booked for $26.50 per night, for just a long drop, table and fire pit. Many comments on WikiCamps talk about people boycotting these camps due to the exorbitant price per night. If they were more reasonably priced, say $5 or $10 per night, more campers would stay and get to experience the area. This campsite is $5 per night, or $30 per week, but only in the busy period or when someone decides to visit and collect camp fees. No one came to collect the fees for our overnight stay.
History of Tyrendarra and the Fitzroy River
Digressing into some history of this area, the local guy told us Tyrendarra comes from an Aboriginal word from the indigenous Gunditjmara people meaning the meeting of two rivers, viz. the Darlot Creek with the Fitzroy River.
If you can get Internet on the road, it's useful to research the area you're heading into before you arrive. Otherwise you can miss uncovering interesting facts and learning about places worthy of a visit nearby. Reading about it afterwards is not fun when you realise you've missed out seeing an interesting place around the corner from where you were!
As was the case with this area. Although we only spent one night, there is much more to explore, like the Budj Bim National Park, Mt Eccles, Eel canals, and the story of Kitty Wallaby, one of the indigenous inhabitants in the 1800's.
Quoting from that article about Kitty, "Some thousands of years ago, the Gunditjmara engineered an ingenious system of using stones from the lava field to form a system of weirs that trapped eels and other fish, providing them with a year-round supply of fresh food, even in drought. The eels were smoked in hollow trees. There was enough for trading with other indigenous peoples. The Gunditjmara became settlers, and defended their rocky citadel fiercely. The Commonwealth government is currently studying a proposal backed by the Victorian government to begin the process of recognising Kitty's country – Budj Bim – for listing as a UNESCO World Heritage site". We'll need to return one day to find these eel canals.
The locals love this place
For a Tuesday, there were surprisingly more campers than expected. We initially drove down to the area near the water outlet. There was already a camper van and a couple of tents setup. Later that evening, after setting up in the larger area further back where there were three other campers, we met a young couple, Joe and Gabby. They were one month into a lap around Australia in just four months. This would be a speedy trip, but was all the time they could get off.
Joe had custom fitted the van himself, and did a great job making cupboards and a slide out double bed. We learnt that the tents alongside them are not being used and had been there at least a few days. They were in one of the best spots of the campground. We think this was somebody "reserving" the spot for an upcoming weekend by propping up empty tents. This is a practice we think is selfish and unacceptable, especially in a free campsite. Even in a paid campsite, it's depriving someone else the pleasure of that site.
We stopped and chatted to some locals visiting for the day in their four wheel drives, along with dune buggies in trailers. They confirmed this is the best campground in this area along the coast and come here often. Some other locals were jet skiing in the river and heading in and out of the outlet into the sea. The temperature of the outlet is warmer than the sea and provided a safe and shallow area for the children swimming there. There was one person fishing in the sea but we didn't venture that far to see if they'd caught anything. Tempting as it was for Vic to go fishing, we decided to cook a BBQ and take in the surroundings and the spectacular sunset that evening.
Morning sounds…
The next morning we awoke to a still and vivid blue sky, with the sounds of spoggies in trees next to us and the cawing of crows. Outside there was an earthy, but not unpleasant smell of cows from the big dairy over the hill who had just had their morning milking.
The Fitzroy River weaves up from here North West up to Heywood about 30Km away. One of the locals who camped near us with his mate comes here often "to get away from the misses". They were keen fishermen all setup with their tinny and outboard. Apparently you can travel a few kilometres up the river, then you need to get your boat over some shallow sections, and you can keep travelling up the river. They returned in a couple of hours with three nice sized brim and Vic was envious. If only we had a tinny on top of our 4WD! But where do you draw the line with what you can take with you? We'll leave that discussion for a future blog post.
The people you meet on the road
The campers next to us, Amanda, Adrian and their young daughter Ella had just completed one year on the road. They were travelling in their Toyota Landcruiser 200 series towing a Franklin caravan. It's great to share stories with other passionate travellers on the road. We just stood talking to each other in the sun for at least an hour. As well as interesting, it's where you learn about the hidden campsites and road conditions. They were kind enough to share details of their last campsite, Lake Cockatoo, in South Australia's South East. It's a small, free campsite on a lake just south of Padthaway and one of their favourites. It sounded perfect, and we made it our next destination. Thanks guys, it was great to meet you and we hope to run into you again sometime. You can follow them on Instagram @getabout2015.